×
Contact Us
Fill out the form below for more information. You can also call us at 785-825-1842.
Our mailing address is 1835 Wall St., Salina, Kansas 67401.
Direct Image® Operational Tips Email
---
In this issue we are highlighting:
---
DI Viewer and Acquisition V3.3 Release:
Geoprobe® Direct Image® has released the latest update on DI Software. The latest version of software can be downloaded from: https://geoprobe.com/direct-image-software-downloads
DI Acquisition V3.3 Improvements:
Improved installation which includes: Added a code signing certificate within the installer security window. This shows the installer (Viewer and Acquisition) is from Geoprobe

®

– a trusted software source.
The installer checks your system for the necessary .NET framework 4.6.1 required for proper operation.
Addition of MIHPT-CPT, OIHPT-CPT and OIHPT-G in the probe selection option menu depending upon the mode of operation.
Addition of a probe serial number text box on the probe selection screen. This will allow for better tracking of probe footage.
Updated drivers for OIP logging.
Improved OIP alarms
Added a COM port debugging tool for troubleshooting communication issues. Accessed under Tools function tab.
Figure 1: OIP Log showing display of images from multiple log depths.
DI Viewer V3.3 Improvements:
Multiple image display in OIP modes (Figure 1, above)
Modification of the observed fluorescence graph label on OIP logs to identify the image filter being used.
geoprobe.com/direct-image-software-downloads
---
HPT Controller Upgrade:
In early 2017, we changed some of the components in the HPT Pump and controller. These changes provide better pump performance, longer pump life, and easier maintenance. These changes include:
Replacing the aluminum block manifold to a high-pressure plastic manifold (1) reducing corrosion and reaction with the water injected.
Moving the in-line water filter from inside the box to being accessible from the back panel (2).
Changing the bypass valve seats from brass to stainless steel (3). This reduces corrosion and leakage.
These improvements will reduce the amount of internal corrosion, pitting and generation of flocculants from reaction with water remaining in the HPT manifold. It also makes cleaning the filter far easier since it can be easily accessed from the back panel. These improvements may help the upcoming HPT field season go smoother and prevent undesirable and costly downtime.
Contact Geoprobe® Direct Image® for a cost estimate to upgrade your HPT pump with these improved features.
---
Identifying DNAPL using MIP:
A significant amount of MIP work is performed to delineate chlorinated solvent plumes and determine their sources. This may include encountering a DNAPL source whether it is expected or not. Here are the indicators within the MIP graphs that can lead us to the most likely locations on a site where DNAPL may be found.
MIP Log DNAPL Identifiers and Operational tips:
High MIP detector signal levels can indicate the presence of NAPL. Here are some example values for TCE:
| | | |
| --- | --- | --- |
| Detector | Saturated TCE Solution (~1,200ppm) | TCE NAPL |
| XSD | 2.5 x 106 μV | 2.0 x 107 μV |
| PID | 5.0 x 106 μV | 2.0 x 107 μV |
| FID | 5.0 x 105 μV | 1.0 x 107 μV |
These are example MIP detector responses for TCE run on a MIP detector system at Geoprobe

®

.
Look for low spots in basal silt and clay formations in the EC-HPT data where DNAPL may collect.
Compare cross sectional responses of all detector data and make sure you observe the FID response which will show the greatest contrast between DNAPL and high dissolved phase responses. The FID can highlight the area where DNAPL is located.
MIP pressure may show a very slight increase in pressure after DNAPL has diffused through the membrane and is on its way to the detectors.
Ensure that you are operating your detector in medium or preferably low gain setting with appropriate attenuation factors in the software prior to advancing the MIP tools into areas of likely DNAPL.
Do not use ECD data for high concentration CVOCs
Below we will explain these points further:
(1) Based upon the data we have seen and collected, when your detector (PID, XSD and FID) responses are reaching into the 107 μV levels there is a good probability DNAPL will be present.
(2) Here are cross sectional displays of a series of logs (EC and MIP detector graphs). Notice the sand-till contact is deeper on the EC graph (brown fill) in the 3rd to 5th logs from the left. This will act as a DNAPL point of collection. The XSD (green fill) and PID (blue fill) both show higher responses in the 3rd to 5th logs but also have visible signal in adjacent logs at these scales.
(3) The FID (red) displays a much higher signal in the TCE DNAPL compared to the dissolved phase adjacent to it. This higher FID signal helps to pinpoint the location of DNAPL in the cross section.
(4) During this study, we observed the MIP pressure graph may show a slight rise in pressure during this study that when the membrane is exposed to DNAPL. This is a result of NAPL increasing the vapor density of carrier gas stream as it moves through the trunkline to the detectors. This observation requires a very stable MIP pressure prior to encountering the DNAPL zone. This can be seen in the graphs below:
Slight increase in MIP pressure when NAPL is encountered.
(5) Expecting DNAPL? Adjust your detector gain settings to low (SRI -PID, FID and OI XSD with appropriate attenuation setting) prior to beginning the log. At these levels you would not need to change them in the ground. You might start out with a bit more detector signal noise, but this will not matter once you reach high dissolved phase concentrations and beyond.

Gain/Attenuation Settings on the GC detectors and the DI Acquisition software

| | | | |
| --- | --- | --- | --- |
| SRI PID-FID Gain Setting | DI Acq. Attenuation | XSD Gain Setting | DI Acq.Attenuation |
| High | P-1/F-1 | High (100) | 1 |
| Medium | P-10/F-20 | Medium (10) | 10 |
| Low | P-100/F-200 | Low (1) | 100 |
GC Gain/Range settings and associated software multipliers.

The detectors controlled by HP GC have been observed to require using a detector range of 7 and attenuation factor of 128 in LNAPL plumes. For chlorinated DNAPL, it would be recommended to start the log using a range of 5 or 6 and 32 or 64 on the attenuation to reduce likelihood of an in-ground change. These steps do not need to be done incrementally. More information on using MIP to identify DNAPL can be found here.
HP GC Range Setting

DI Acq.
Attenuation

0

1

1

2

2

4

3

8

4

16

5

32

6

64

7

128
---
Battelle Symposium:
Come visit us at the Battelle Symposium in Baltimore, MD April 15th-18th
Geoprobe® Direct Image® at Booth 514
Wes McCall, Adam McMath, and Dan Pipp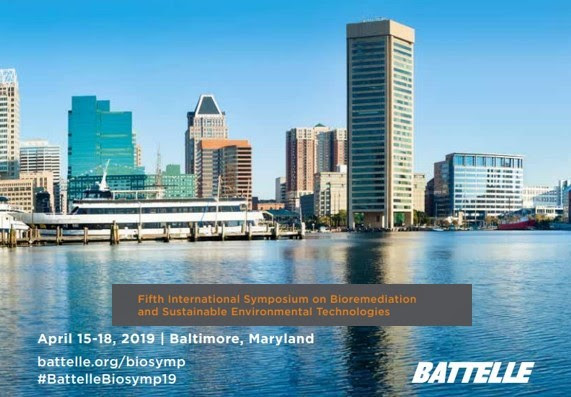 .
Probing Times Articles
Search below by title and description or filter by issue date. Use "Reset" to start a new search.
NEW 3126GT: Simplify Your Geotech

Dream of swiftly sliding from rotary to automatic drop hammer without having to reposition mast or machine? The innovative centerline head side shift is a reality on the NEW 3126GT...

Probing Times Summer 2020
> Read More

Confidence to Close High-profile Forensic Jobs

When MLA Geotechnical found themselves in need of a truck-mounted drill rig to complete thousands of borings per year in hard clays and limestones, the Geoprobe® 3100GT quickly became their top choice...

Probing Times Summer 2020
> Read More

3-Inch Interlocking Split Spoons

After just a few uses of the 2-inch interlocking split spoon, Discovery Drilling in Alaska was convinced they needed the new design in a 3-inch version to satisfy their sample-hungry clients...

Probing Times Summer 2020
> Read More

Cabin Solves Challenge of Weather Extremes

Given their service area in the north-central United States, the climate-controlled cabin of the Geoprobe® 2060CPT Crawler provided an advantage MATECO thought their customers would appreciate...

Probing Times Summer 2020
> Read More

Reaching Greater CPT Depths

The ability to anchor the 3230DT, achieving greater CPT depths, has led to the development of a new procedure integrating the CPT data into the bridge piling design for Nebraska Department of Transportation...

Probing Times Summer 2020
> Read More

NEW 3230DT Tier 4: More Power, Less Fuel

Known for providing precision head feed control and versatility to easily switch between drilling techniques, the NEW Tier 4 3230DT adds horsepower and fuel-saving hydraulic features...

Probing Times Summer 2020
> Read More

The Delicate Dimension of Drilling

GFA found the perfect combination of precision and power with the Geoprobe® 3230DT along with the added benefit of increasing their productivity through the 3230DT's direct push capabilities...

Probing Times Summer 2020
> Read More

Gaining Ground on the Green Ooze

One cold day in late December rush-hour motorists noticed green ooze gushing onto the pavement through a crack in the retaining wall of I-696, north of Detroit...

Probing Times Summer 2020
> Read More

Changing with the Times

Enviroprobe Integrated Solutions in West Virgina has steadily increased its geotechnical work since 2013. As their field of work has changed over time, Fore leverages the 7822DT's ability to core rock...

Probing Times Summer 2020
> Read More

Dealing with Industry Demands

To meet the varying requests environmental and geotechnical requests, East Coast Drilling Inc. (ECDI) relies heavily on the Geoprobe® 7822DT...

Probing Times Summer 2020
> Read More

A Combination of Extremes

The need of GeoTek Hawaii to provide a combination of services, in a combination of environments, led them to have a combination of rigs – though the fleet tips toward Geoprobe® combination rigs like the 7822DT...

Probing Times Summer 2020
> Read More

Playing Ball with the Big Dogs

Geo Lab Drilling leverages the power of the 7822DT to stretch their capabilities, penetrating shallow rock in the piedmont of the South...

Probing Times Summer 2020
> Read More

Sonic Satisfies Lithology Needs

Exploring for several years how sonic drilling might fit SAEDACCO's business model, customer needs and evolving technology convinced them it was time to invest...

Probing Times Summer 2020
> Read More

Sonic Only Tool to Succeed

Companies who had tried drilling at a site in Guymon, Oklahoma, lost pipe strings in the rough formation. Keyes had faith in his Geoprobe® 8150LS an dhis driller, Billy Graham, to get the job done...

Probing Times Summer 2020
> Read More

Capitalize on Combination Capabilities

Fulcrum often found themselves dependent on other drilling contractors to complete a fair amount of their work. Frustrated, they began looking for ways to make the 20-year-old company more competitive by doing all drilling operations in-house...

Probing Times Summer 2020
> Read More

Sticking to What Works

For Penecore Drilling, sticking to what they do best and remaining resilient through recessions – and now COVID-19 – has been made just a little easier because "Geoprobe® always comes out with a lot of different things that help us." ...

Probing Times Summer 2020
> Read More

Farewell Friend, Not Just Colleague

After 26 years, Greg Johnson leaves a legacy of treating customers with honesty and respect and raising the profile of international customers within the company...

Probing Times Summer 2020
> Read More

Containing Communist-Era Contamination

Despite sloping terrain, swampy forest, and harsh weather, Dekonta successfully used 7822DT and Direct Image® tools in their investigation of an old sand quarry, which during the communist era served as a landfill for various factory wastes...

Probing Times Summer 2020
> Read More

Exploring Paper Island's Environmental History

Using a Geoprobe® 7822DT with DT22, intact soil samples could be taken in designated depths to help approximately 20 archaeologists from Museum of Copenhagen uncover the city's environmental history...

Probing Times Summer 2020
> Read More

Distinctly Different DM450

With a 140-foot open hole and casing ready to set, Bush Services noticed the hole starting to cave in. Fortunately the operator abandoned the rig as it started sliding backward — into a sinkhole...

Probing Times Summer 2020
> Read More

Proper Care for Aging 7822DT Rigs

In production for more than 12 years, the Geoprobe® 7822DT is a workhorse in many company fleets. If you've had your rig for a few years, it may be showing some signs of age. Three key components on the front of the 7822DT deserve periodic inspection...

Probing Times Summer 2020
> Read More

Multiple Service Options Available

Understanding the difficult job you face servicing drill rigs when they are busy performing field work, the service centers – in Kansas and Florida – offer several different options to meet your needs...

Probing Times Summer 2020
> Read More

Technique Creates Competitive Edge

With scheduling busy drillers becoming increasingly difficult in the Northeast, affecting their clients, SAGE Environmental recognized the need to control its environmental, remedial injection, and geotechnical drilling services...

Probing Times Summer 2020
> Read More

Variety Key to Business for Cenozoic

With a bachelor's degree in geophysics from the University of California Santa Barbara, Jeff Harra's interest in mining geology, geologic hazards, and equipment design...

Probing Times Spring 2019
> Read More

Sonic Secures Pot of Gold for M&W Drilling

Rather than continue turning down job requests because they didn't have a sonic rig, M&W Drilling (MWD) in Knoxville, Tennessee, decided two years ago it was time to get into sonic drilling...

Probing Times Spring 2019
> Read More

Carbide Sonic Bits

Throughout the years Geoprobe® has accumulated feedback on how sonic bits wear during their lifetime. Our tooling engineers took this information..

Probing Times Spring 2019
> Read More

Open House 2018 Recap

Our fifth Geoprobe® Open House is in the record books and we couldn't have asked for a better day full of sunshine and excitement...

Probing Times Spring 2018
> Read More

New Doors Open to 3230DT's Power

Action Environmental in Tampa was approached to see if they had a drill rig large enough to handle proposed environmental work; otherwise sonic options would be pursued...

Probing Times Spring 2017
> Read More

Mission: Complete

In order to meet the Canadian military's potable water needs, ALTECH Drilling and Investigative Services in Cambridge, Ontario...

Probing Times Spring 2016
> Read More

Portable Hydraulic Rod Clamp

Get rid of the pipe wrenches and use the Geoprobe® Portable Hydraulic Clamp that can be attached to most 6620DT, 7720DT, 7730DT, 7822DT, and 6712DT machines...

Probing Times Spring 2016
> Read More

MIP Quickly Delineates PHC Impacts

Vertex Environmental was retained to complete a large in-situ chemical oxidation injection remediation project by the provincial government in northern Ontario, Canada...

Probing Times Spring 2016
> Read More

"We've sure been busy."

We're sure busy here at Discovery Drilling, in spite of the logistically challenging projects we have scattered around Alaska. We realized...

Probing Times Spring 2015
> Read More

Switch to Sonic? No Way!

The Geoprobe® sonic rig has really done some incredible things" Robert said. "Everywhere we've gone it's really impressed everyone...

Probing Times Fall 2016
> Read More

54TR Mounting Options

Are you looking for a limited access, specialty direct push machine? Our 54TR combines the proven 54 Series probe assembly...

Probing Times Fall 2016
> Read More

Machine Refurbish Makes Good Cents

The timing is right for 7822DTs, 8040DTs, and even some sonic rigs to come in for a refurb or repairs, especially if you continue to run one of the older...

Probing Times Fall 2016
> Read More

The Bikes on Broadway

Ever present on the North Campus of Geoprobe Systems® (located on Broadway Blvd) but seldom seen by the public, these men and their 'machines' ride...

Probing Times Fall 2016
> Read More

Living the American Dream

As a young man out of high school, Rob McAllister wasn't sure what he wanted to do with his life. That's something a lot of people can relate to.

Probing Times Fall 2015
> Read More

Open House 2012 Wrap-Up

It was overcast but dry and spirits were high as our 2012 Open House got underway Thursday morning. Close to 150 people travelled from half a dozen...

Web Article
> Read More

Direct Image® 2012 Workshop Wrap-Up

The response to our first ever Direct Image® Workshop surprised even us! Preparation for the workshop was a lot of work and at times tension was high but when the day finally arrived...

Web Article
> Read More

Convenient, Consistent Poly-filters

Coming in pre-soaked packs of 10, the new poly filters provide the convenience of 'one-and-done' versus the extra effort of determining whether the brass filter has exceeded its viability...